Stokes Valley History Part Two
The Original Land Survey
Stokes valley was first divided into 10 sections by surveyors of the New Zealand Company, presided over by S.C. Brees, Principal Surveyor to the Company in January 1843. This original survey shows the 10 sections with the road to Stokes Valley climbing the western hills and following the ridge to the mouth of the valley. Most of the original 10 selections were made by Messrs. Child and Alzdorf, presumably acting as agents for others.
The sections tended to change hands quickly, and many did so on more than one occasion. As a result of this, some confusion seems to have ensued as to exactly who owned what parts of Stokes Valley, and eventually a legislative Council ordinance was issued naming David Lewis as Commissioner to hear claims to the land by people claiming through the New Zealand Company. After Lewis's adjudication on the claims in 1864, Crown grants were made (many retrospectively) and issued when applied for on payment of two guineas.
The First Crown Grants
The first Crown Grants of land in Stokes Valley were made as from 18 January 1853, and were as follows:
H. Udy:
Section 65: (part): An area of 57 acres at the mouth of the Valley
J.E. Wainhouse
Section 65: (part): an area of 73 acres on the western side of the Main Road extending from the south of the valley to the second bridge
Section 66: An area of 186 acres on the eastern side of Glen Road
Robert H. Wood
Section 67: An area of 156 acres at the south eastern end of Tui Glen Valley
S.A. Short
Section 68: 137 acres on the western side of the Main Road, from opposite Glen Road Corner Speldhurst Corner
George T. Pollard
Section 69: 130 acres from Speldhurst Corner to opposite Kennedy Road
John Caw
Section 70: 150 acres bounded by Glen Road and main Road and extending to Kennedy Road
Helen Speedy
Section 71: Approximately 100 acres from opposite Kennedy Road to Koraunui Hall
H. Rintoul
Section 72: 111 acres from Kennedy Road to Manuka Road
George Hart
Section 73: 111 acres from Koraunui Hall to the bend on Main Road approximately 190 metres from end of Main Road
Robert H Wood
Section 74: 114 acres from Manuka Road to the bend approximately 190 metres from the end of the road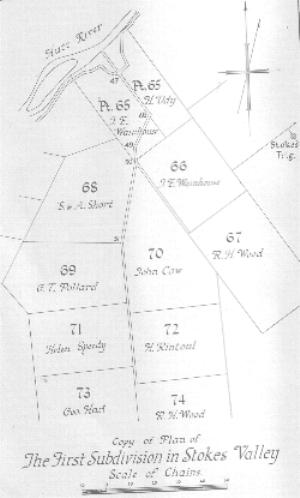 Not a great deal is known about these early Stokes Valley land owners. Robert Henry Wood never occupied either of his sections (67 and 74). In fact, there is no evidence of this man ever leaving England - one of many cases of absentee land-ownership.
George Hart did leave London, and arrived in Wellington in the Mary in 1843. he became very active in Wellington affairs, even becoming Speaker for the Provincial Council from 1859-1861. As far as can be ascertained, he never occupied his Stokes Valley land, though he did later take over large properties in Canterbury.
Mr Hart Udy
The first to settle in Stokes valley, after the making of the Crown Grants was Mr Hart Udy, who immediately set up a saw mill on his property. Udy Street in Petone is named after him. he arrived in Wellington, with his wife and family, in 1840 aboard the Duke of Roxburgh. For some time he worked for Sir Francis Molesworth on the building of the first cutter and the first house of New Zealand timber. After working in Wellington for three years he moved to Waiwhetu where he worked at his trade for many years. Interestingly, on 1 March 1845 his house was pillaged by Maori.
In 1849 Udy built the first Anglican church in Lower Hutt. He moved to Stokes Valley in 1853 and lived there until 1857. Later he secured some valuable bushclad land at Matarawa where he lived with his family until he retired in 1865. He spent his later years in Greytown and died in 1896.
Starvation Valley
The pioneers made a living for their families mostly by bush felling, post and rail splitting, and timber milling. At this time Stokes Valley was heavily bushed with birch, rimu, rata, totara, and some white pine. In the 1870s, in what was considered the Hutt Valley's greatest flood, the Hutt River flooded a considerable amount of the lower end of the Valley, washing away quantities of cut timber from the sawmill.
After the felling of the timber and the clearing of the land it was discovered that the soil had little to offer. It was mainly clay and, typical of birch country, was poor and unresponsive. Life for some of the farmers was a ceaseless, unrewarding struggle, particularly for those who had little working capital. Stokes Valley was then referred to as "Starvation Valley". One or two orchards were established and made quite good headway but owing to a lack of capital and low prices for produce many of the farms failed to flourish.
The isolation in those early days proved disastrous to many families, but as is so often often the case in remote districts during strenuous times, these early farmers, lived peaceably with each other without dispute or friction. Women crossed paddocks in the dark night hours, their way lit by swinging hurricane lamps carried at their side, hurrying anxiously to a neighbour perhaps a mile away to aid with a sick child. Sometimes through the night could be heard the rapid thud of a galloping horse as a man urged his horse over the six miles of the lonely unlighted road to call a doctor for a sick friend. Men sat long hours with a neighbour fighting for the life of a sick cow or horse. All hands would run to assist with the gathering of a hay crop when rain threatened. Always it meant hard, often disheartening work.
Sometimes it was their courage that failed, sometimes their health. These were the people that pioneered our Valley and they are the folk who earned our admiration. We who live now on the same soil with every convenience to ensure our hourly comfort would do well to meditate upon these truths and pay silent homage to those folk who have trod before.